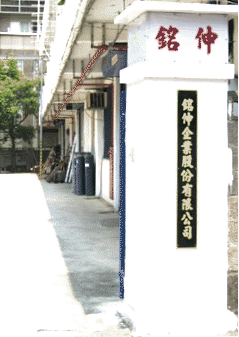 MingShen Enterprise Company Limited started as a hardware store named MingShin by ex-director Mr. Tseng Wen-Shien in February 1953. Through many years hardworking and effort, MingShin kept expanding and transformed into MingShen Enterprise Co., Ltd. in 1960.
In 1963, MingShen merged the production sector of TongShan Industrial Co., Ltd. which was also established by Mr. Tseng Wen-Shien in 1959. Before the merge, TongShan had already accumulated 5 years of production experiences and acquired techniques that were originally developed with Chiyoda precision machine company and Nezu industrial company in Japan. The merge extended MingShen's products scope which includes gas welding equipments, cutting equipments and its related accessories. These products are now recognized as registered sign " 3ARROW " .
In order to meet both domestic and foreign markets demand, the welding & cutting division has been expanded and relocated at DanShuei in 1974 which owned a 2,000 square meters facility. Based on the intention to provide our customers various choices of products, we applied and successfully became Taiwan's sole agent for the world's best professional compressors company, BAUER KOMPRESSOREN GMBH Munich.
MingShen now is well-known for providing total solution to breathing air system and industrial gas system. Our customers scope covers many fields and applicable areas, electronics companies, fire department, police stations and etc.. Should any of your requirements pertaining to torches, nozzles, gas fittings, and centralized gas supplying systems are beyond out catalog, MinShen could serve you per your own samples or design.